HOUSES THAT DON'T SEEM REAL, BUT ARE!
By
John Riha
Article from
HouseLogic.com
Is beauty in the eye of the beholder? These 8 ugly houses answer that age-old question with a resounding: Yes! Despite some odd proportions, strange building materials, and off-the-wall colors, these prideful homes all have redeeming qualities that endear them to their owners. For one, they're all unique. And in this cookie-cutter world, that's saying a whole lot! Which is your favorite?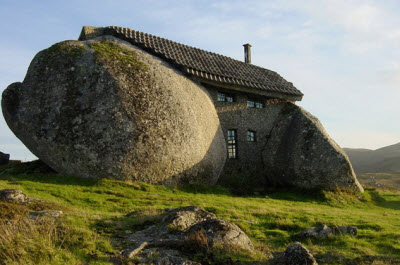 Credit: JSome1, photographer
A House that Rocks
If you're looking for a rock-solid investment, how about this house in Portugal? Situated between two giant boulders, the house walls are formed of mortared masonry, and the living area is covered by concrete tile
roofing
. Fireproof, windproof, and impervious to insects, a house like this might qualify you for lower
home owners insurance
rates.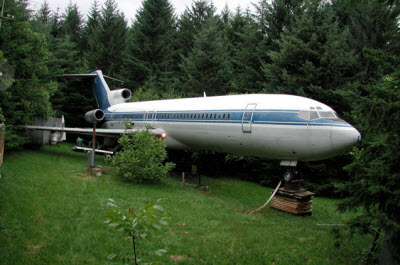 It's a Bird! It's a Plane! It's My Home!
Insect-proof, fireproof, and able to withstand 575 mph winds, this Boeing 727 features more than 1,000 square feet of living area, and there are plenty of
storage solutions
in the cargo hold and in the overhead compartments. The jet body cost about $100,000 (without engines). Moving the decommissioned jet to its final resting place and outfitting it for living cost another $100,000.
Credit: From www.AirplaneHome.com, republished with permission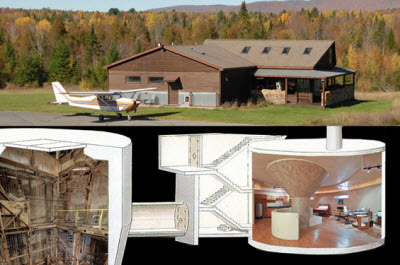 Make Homes, Not War!
Can your home survive a direct nuclear strike? This one can. Made from a decommissioned missile silo in upstate New York, it's one of the strongest structures ever built. The 2,300-sq.-ft., below-ground portion includes a full kitchen, entertainment center, and two private suites. Entrance is gained via an 1,800-sq.-ft. log home on the surface, and there's a private runway. Buy-in price? About $750,000.
Credit: ColdWarMissileSilo.com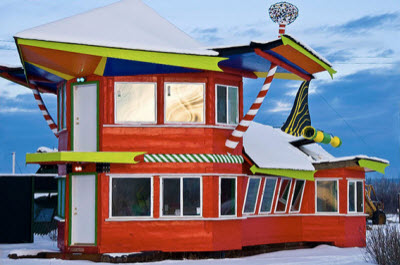 Horton Hears a House
Choosing the right colors for your
exterior paint job
is critical to preserving your home's value, unless you happen to think like Dr. Seuss, in which case just about anything goes. This bright and fantastical house is located in (where else?) North Pole, Alaska, where a bit of colorful whimsy is a welcome sight.
Credit: Peggy Asbury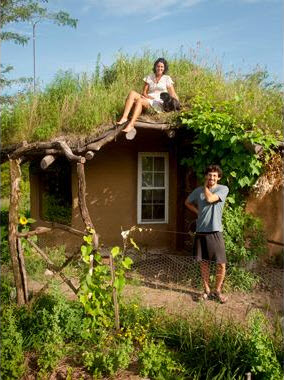 A Mud Home That's Dirt Cheap
With its
green roof
and rural flavor, this 200-square-foot cottage in Missouri has its, um, roots in the centuries-old art of cob construction—earthen walls formed of clay, sand, and straw. Cost of construction was about $4,000, or a modest $20 per square foot. Of course it includes a mudroom addition.
Credit: Brian "Ziggy" Liloia and April Morales / photograph by Stephen Shapiro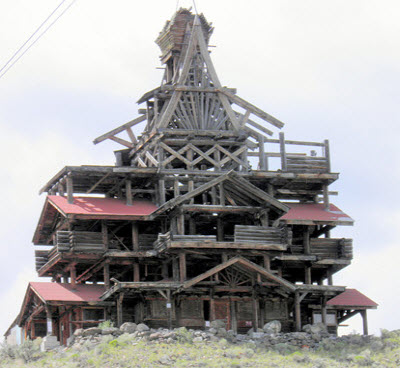 A House Out Standing in its Field
With its multiple balconies, twisting staircases, and oddly shaped rooms, this whimsical house in Wyoming is a local curiosity. Although it's no longer occupied, the original owner/builder used locally harvested logs and plenty of
salvaged building materials
to produce a one-of-the-kind cowboy mansion that towers above the plains.
Credit: Robert Elzey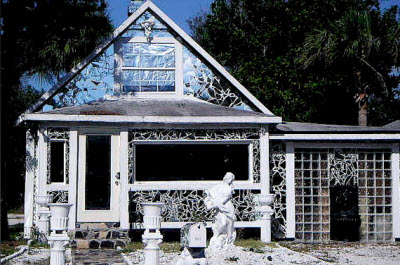 People in Glass Houses...
These home owners are obviously into self-reflection. Clad in pieces of glass and mirror, this enlightened folk art cottage in Florida requires a lot of
window cleaning
. For a more maintenance-free exterior, try
vinyl or fiber-cement siding
.
Credit: Gordon Borman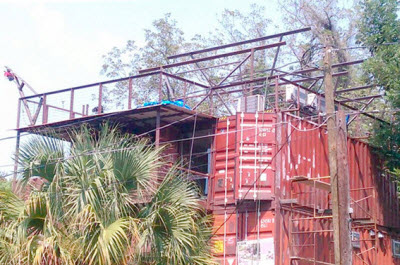 This House is a Real Steel
Think twice before you bang your head against the walls of this Gainsville, Fla., house. Built from salvaged steel shipping containers ($2,500-$5,000 each), this 2,200-square-foot flight of fancy features three bedrooms and two and a half baths. It's fireproof, sustainable (repurposed materials!), and you sure won't have to worry about
termites
.
John Riha has written seven books on home improvement and hundreds of articles on home-related topics. He's been a residential builder, the editorial director of the Black & Decker Home Improvement Library, and the executive editor of Better Homes and Gardens magazine.